Menacin' Venison                                                 Bretton J. McIlrath – @Boiler_B_Mac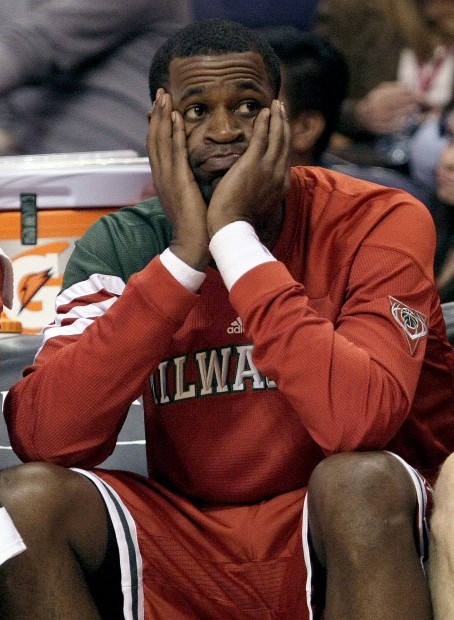 Weeks 1-3
A Tale of Two Teams
Game Results:
 
L – @ Charlotte 96-95
W – vs Minnesota 98-95
W – vs Washington 102-81
L – @ Denver 91-86
L – @ Utah 85-73
L – @ Sacramento 103-100
L – @ LA. Clippers 92-86
L – @ Phoenix 109-93
W – vs San Antonio 106-103
W – vs Detroit 102-93
L – @ Dallas 102-76
L – @ Philadelphia 94-82
This article is about the Bucks, not the social landscape of France leading up to the French Revolution, but you should read it anyway, and then maybe read A Tale of Two Cities by Charles Dickens (he's more wordy than I am, though).
 
Book the First: Recalled to Life (at home)
The first thing you might notice about the above results, other than the 5-game losing streak (Western road-trip), is that the possibly-not-so-menacing Bucks are 4-0 at home and 0-8 on the road. That is a discrepancy you are more likely to see in the Horizon League, not so much the N.B.A. The (University of) Milwaukee Bucks are averaging 102 points at home, while scoring a paltry 86.4 on the road. Digging into player statistics, we can see is that Brandon Jennings (our protagonist a.k.a. Charles Darnay) is averaging 22 ppg at home and 17 ppg on the road. But believe me, it's not just him who has struggled. In fact, the other starters on the Bucks are doing even worse on the road: Capt. Jack – 20.5 ppg at home, 12.1 ppg away, Carlos Delfino 14 ppg at home, 7.2 ppg away, Ersan Ilyasova 10.8 ppg at home, 5.7 ppg away. Bogut is the only starter who has been consistent, 13 ppg at home, 14.5 ppg away. The U. of M. Bucks as a whole shoot 48.5% at home and a John Wall-esque 40% on the road. While it's not normal for a team to shoot as well or score as much away from home, this discrepancy is far too large for this team to win many games anywhere but the Bradley Center (also probably at Verizon Center where the 1-win Wizards play).
The first book or section (of 3) in A Tale of Two Cities is a lot of introduction, set-up, and character development, and hardly any amount of action. Dickens wasn't exactly known for flashy writing, and the U. of M. Bucks are not going to be known for flashy play this season. This team needs to get back to its identity of tough defense and winning with depth on the offensive end. There are likely no All-Stars on the Bucks this season, and only Jennings has a shot at averaging 20 ppg for a whole year. A lot of this team has not been together for very long. There was essentially no training camp, so it's going to take some time for them to gel. But after January, it's time for the character development to slow down, introductions are over and the plot has to get churning. This is not a bad team. Let's hope they start slow like a Dickens book, and end with a bang like A Tale of Two Cities (SPOILER ALERT: Only, nobody gets executed in Milwaukee).
Notes and Summary of Notable Events (Through January 16th):
Already only 2 players have started every game: Jennings and Jackson. Injuries killed the Bucks chances to make the playoffs last year, we'll see if it happens again.
LRMaM has only played in two games, I expected him to be more of a factor for this team this season, hopefully his minutes pick up now that he is healthy.
Jon Leuer the 2nd round pick out of Wisconsin has already started 2 games and has been solid (17.8 PER while playing 19 mpg), he looks like a great find by the Bucks (those who watch Big Ten basketball knew this guy was going to be able to play in the League, though).
Mike Dunleavy has been injured (SURPRISE!) and only played in 3 games so far this season. Beno Udrih is also injured but should be back soon, whereas Dunleavy is still nursing a groin pull.
First-rounder Tobias Harris missed the first several games with dehydration issues.
U. of M. Bucks had 20 turnovers and gave up 23 offensive rebounds to the lackluster Sacramento Kings on January 5th.
January 10th, the Bucks defeated the Spurs behind 34 points from Capt. Jack and a 15/11 game from Jennings.
Bogut has missed 5 games and the Bucks have lost all of them.